Hotel Review: The George, Colchester, Essex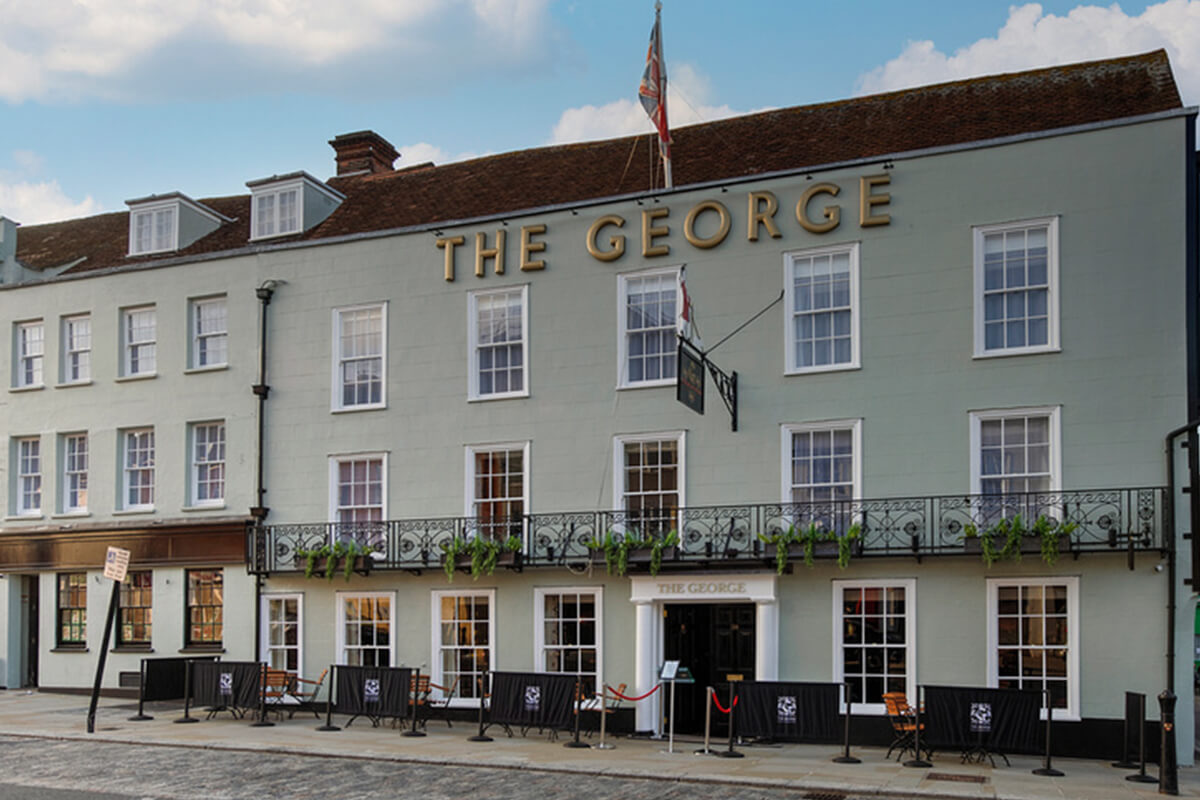 By Rachel Ducker
With history steeping back beyond 500 years, The George, sits proudly in the very heart of Colchester's thriving town centre.
Having been such a prominent fixture of the high street, until recently The George has been closed for restoration works, but boy was it worth it.
With Surya Hotel Group now at the helm of the operation the hotel has been completely revamped whilst working with Colchester's Council, a team of designers, restorers, and specialist contractors throughout the renovation process.
As a grade II listed property, this was no walk in the park, its new exterior has been painted in a classic sage green, meeting the historical guidelines but also giving the façade a real face lift. Behind it sits a timber framed building believed to be dated back to the 14th century.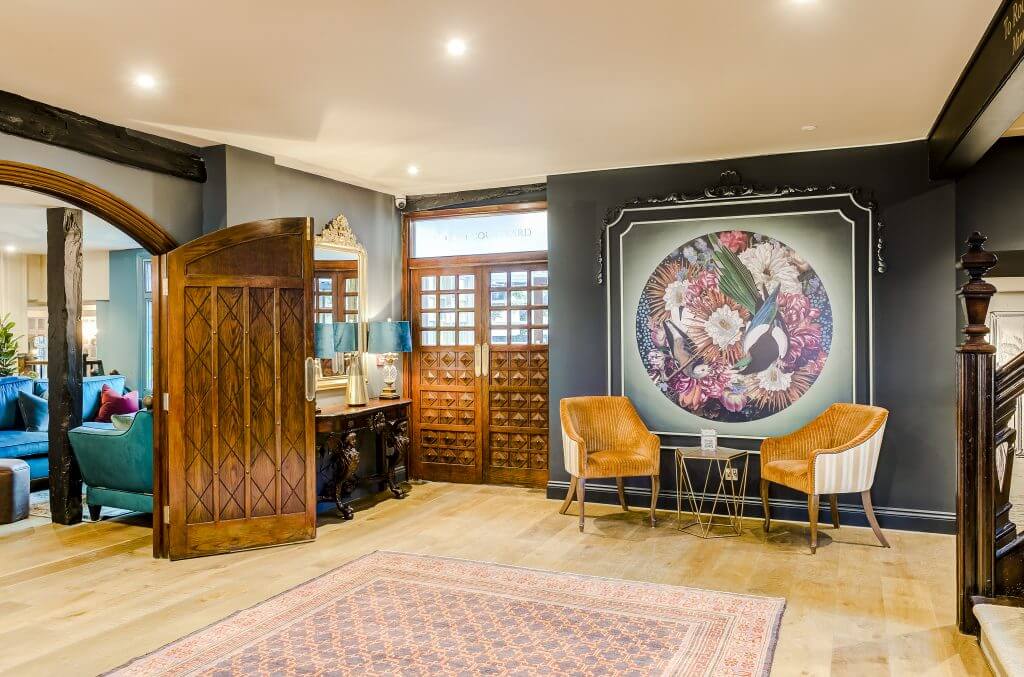 The interior is full of unique touches such as murals painted by award winning local artist Lucy Tiffney, a new Moroccan-style partially covered courtyard and Victorian-inspired afternoon tearoom – called T at The George (opening in July 2021).
Staying at The George
There are 49 rooms all full of designer touches, period features and exposed beams. Suites are also available; one even has a freestanding bath.
During my visit I was lucky enough to stay in The Boudica Suite with my husband and two-year-old son Leo. The town and hotel have proven links to Queen Boudica hence the gentle nod in its name.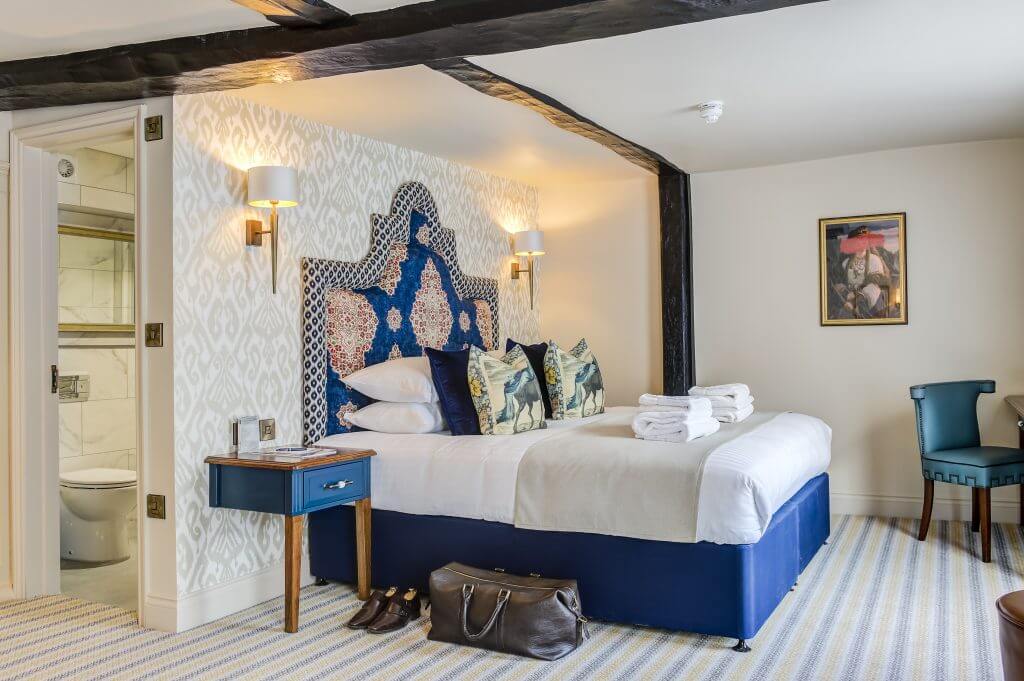 It was a spacious room with a contemporary décor, however with its beautiful beams and big sash windows it still maintained those period touches you would expect from a room of this age.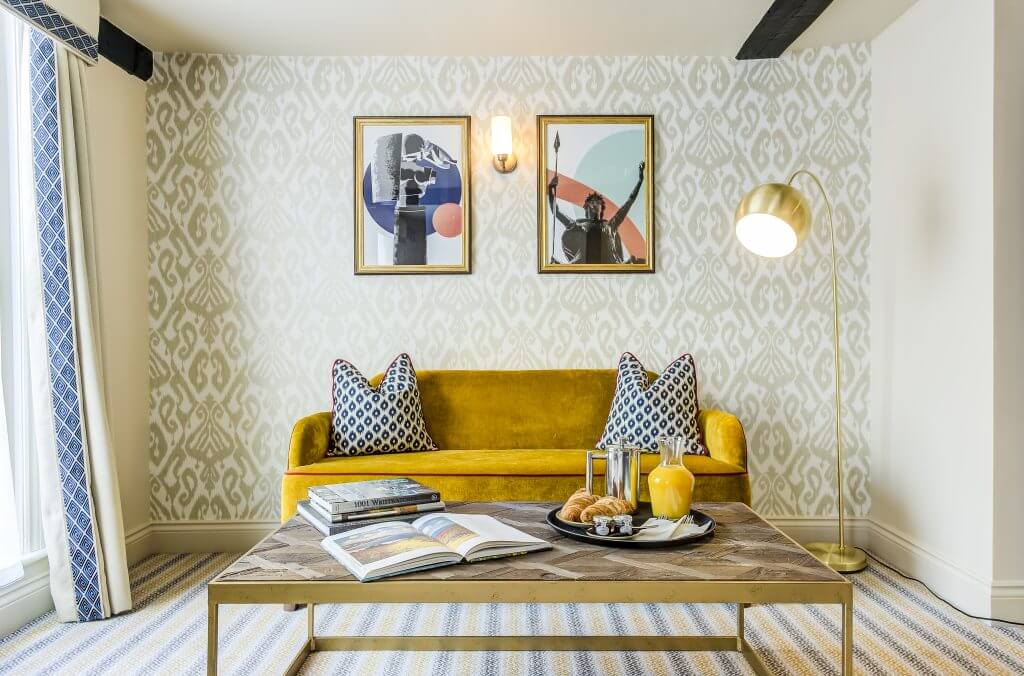 The room was sizeable with its own separate seating area, a luxurious gold velvet sofa made a perfect place to enjoy a coffee and read a book. There was also plenty of space for a travel cot for Leo, which was supplied by the hotel.
Food and Drink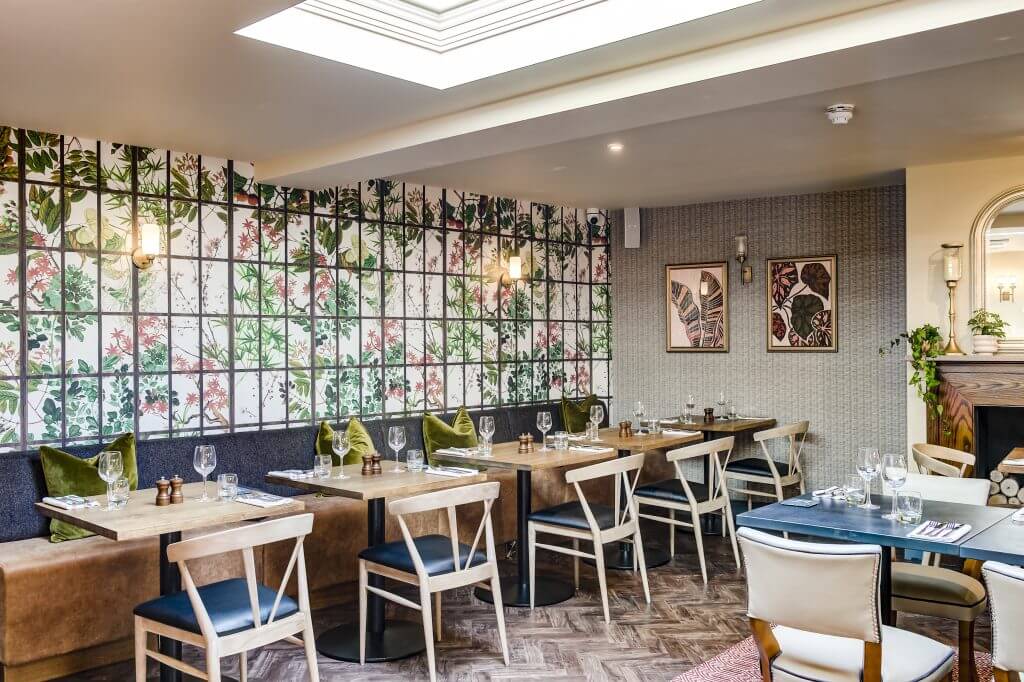 Featuring a stylish bar, lounge, and restaurant there are plenty of zones to wine and dine.
From brunch, lunch to lighter bites there is also a Secret Courtyard with its beautiful Moroccan and floral décor all under a glass roof, so come rain or shine, you can enjoy all its charm.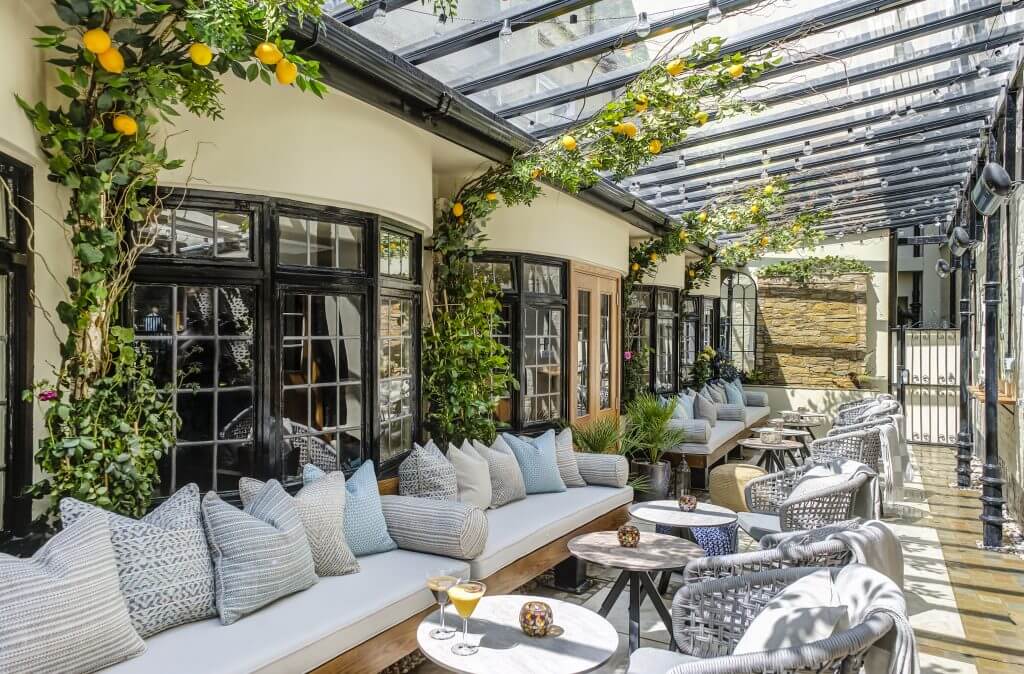 The two tired restaurant offers a daily a la carte menu inspired by British and word cuisines using locally sourced and seasonal produce from award winning suppliers. There is even a little person's menu so everything at The George is family friendly.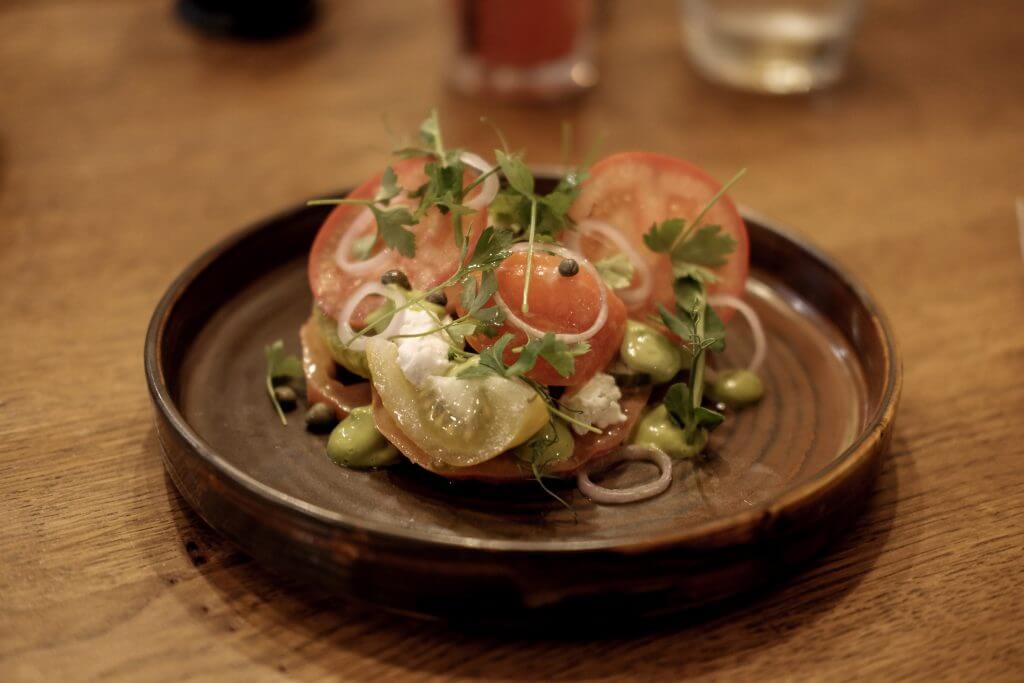 My starter, a heritage tomato salad with basil, bocconcini, rocket, shallot & caper dressing, took me back to a memorable trip I had away in Greece last year, where I picked fresh tomatoes from the farm to use in my dish. Absolutely packed full of flavour and bursting with delicious hints of sweet and sour this dish could have come straight from the garden.
My husband indulged in the haddock risotto, and as you can see, the star of the show was the golden yolk of the crispy duck egg, and for Leo, garlic dough balls of course.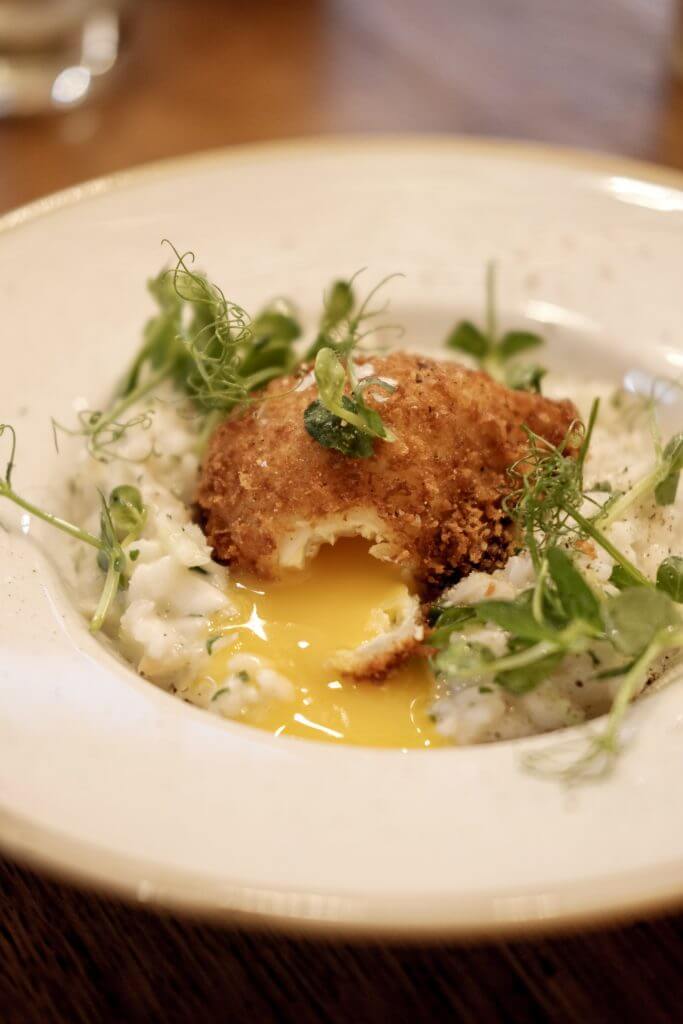 For the main event as a vegetarian, I was delighted to see The George also offer a vegan menu, so I opted for the coconut braised curried lentils with roasted butternut squash, spinach pakoras and coriander. It's hard to find places that do veggie food well, but I am happy to report The George is one of them.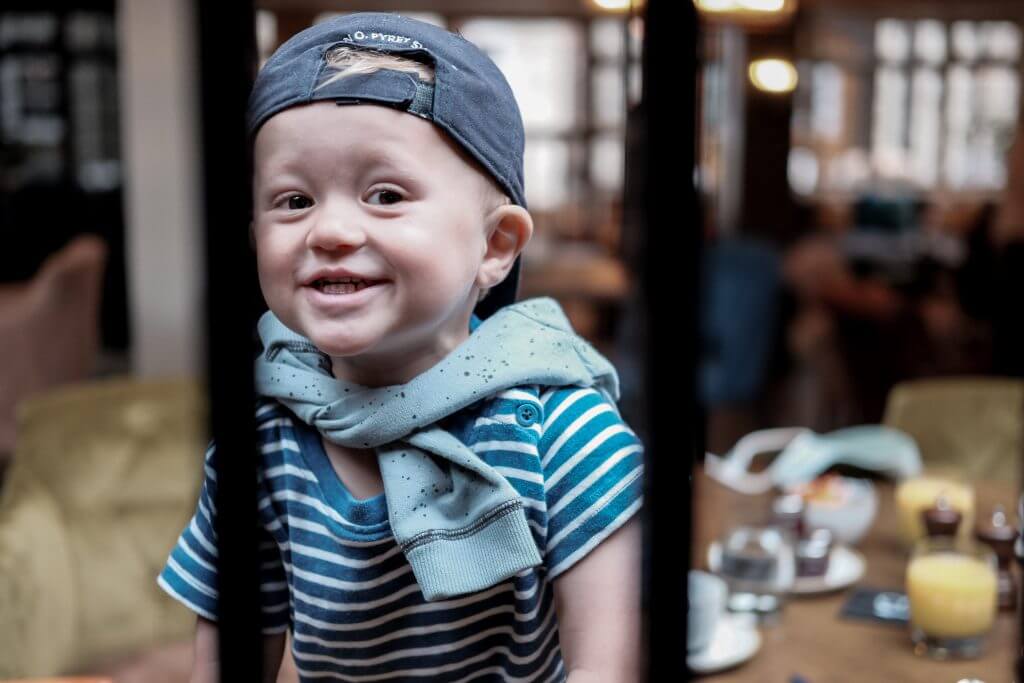 Life changes when you become a parent, so fellow mums and dads can probably relate to having an over tired child with them at dinner, so as we passed the point of no return an unexpected service presented itself.
Not only was the food amazing, so too were the staff at The George and not just restaurant staff, but everyone including security. So, when our waitress suggested having dessert in our room – we jumped at the chance not just to try something different but also to save the room for toddler screams!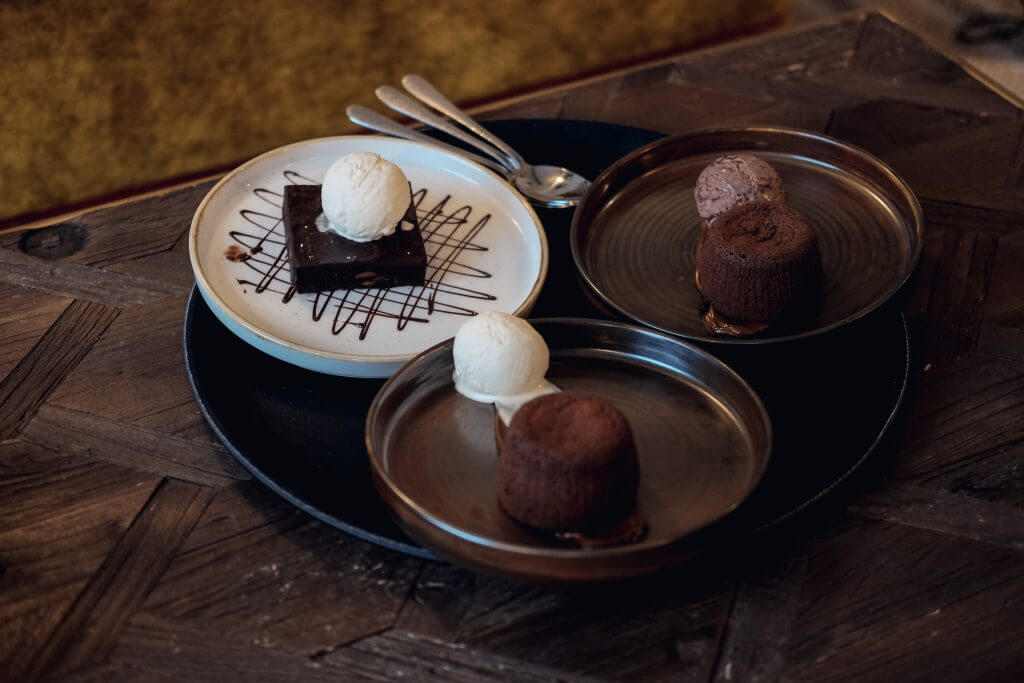 Ten minutes later, a knock at the door and in walks a smiling face with tray of two perfectly cooked chocolate fondants and a small brownie for Leo. Now that's service.
Local Area
Colchester is full of history and is England's oldest recorded town with events dating back over 2000 years. Visitor attractions include Colchester Castle, its well-known zoo and plenty of shops, parks and picturesque villages surrounding the town.
The Verdict
Having been a regular visitor to The George, (back in its day), I have to say I was in awe of its transformation.
A lot of care, attention and love has been put in to restoring this hotel back to its former glory. It feels alive again and after surviving a tough year it's a pleasure to sit back and watch laughter and conversation return to one of the town's most historic buildings.
As a family we enjoyed the whole experience The George had to offer, but most of all felt completely relaxed and welcome throughout our stay. It's hard to find a place that ticks all of the boxes but we felt this hotel really did.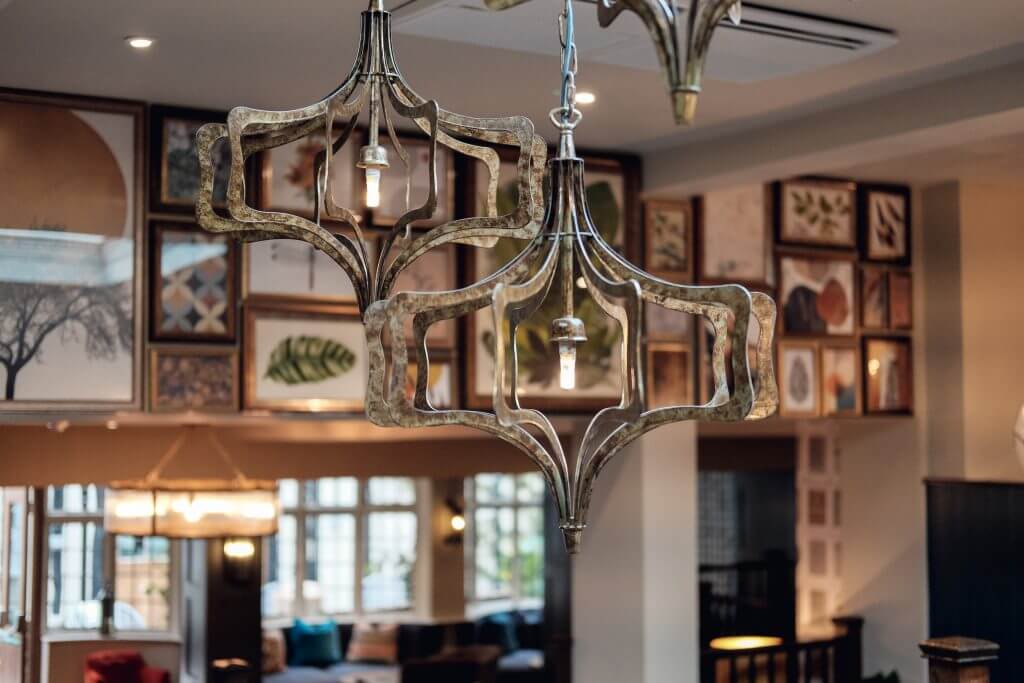 Things to note:
The George has its own pay and display car park situated at the back of the hotel so don't be put off by worrying about parking on the high street.
The hotel is part of a collection of 13 venues – Surya Hotels which have other hotels in Essex such as The Kingscliff Hotel in Holland on Sea.
It's in walking distance from the castle and there is a local train station with good travel links.