Hotel Review: The Mill Hotel, Sudbury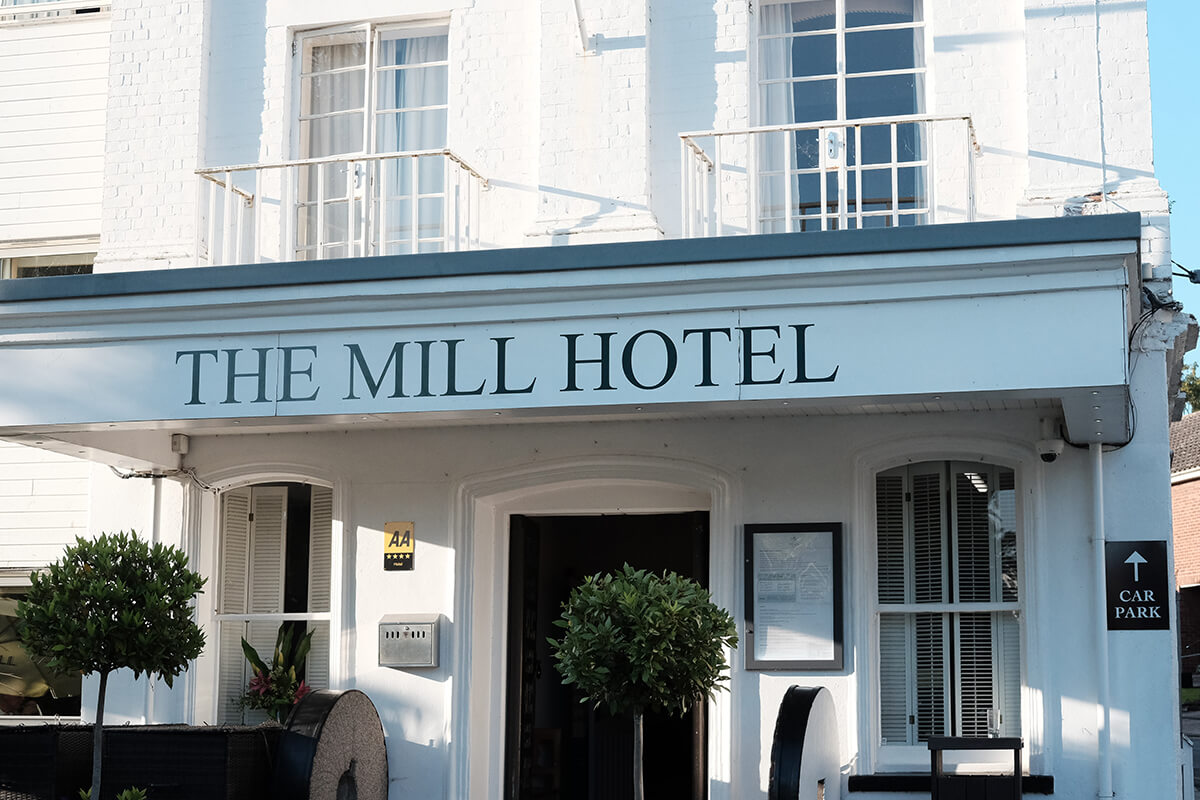 If you are looking for a waterside staycation this summer, this historic converted watermill on the bank of the River Stour makes the perfect base to explore Sudbury and its surrounding areas.
A mill has stood on this site for more than 1000 years and was in working operation until 1964.
Since then, it has become part of the Surya Hotel Group, the hotel is part of a collection of 13 venues – Surya Hotels which have other hotels in East Anglia such as The Kingscliff Hotel in Holland on Sea.
Meeting history with contemporary flourishes the mill's original features have been preserved including the waterwheel itself, found in the restaurant and bar space.
Staying at The Mill
There are 62 rooms, some dog friendly too, so feel free have your four-legged friend tag along – you will have plenty of fun exploring the Suffolk countryside.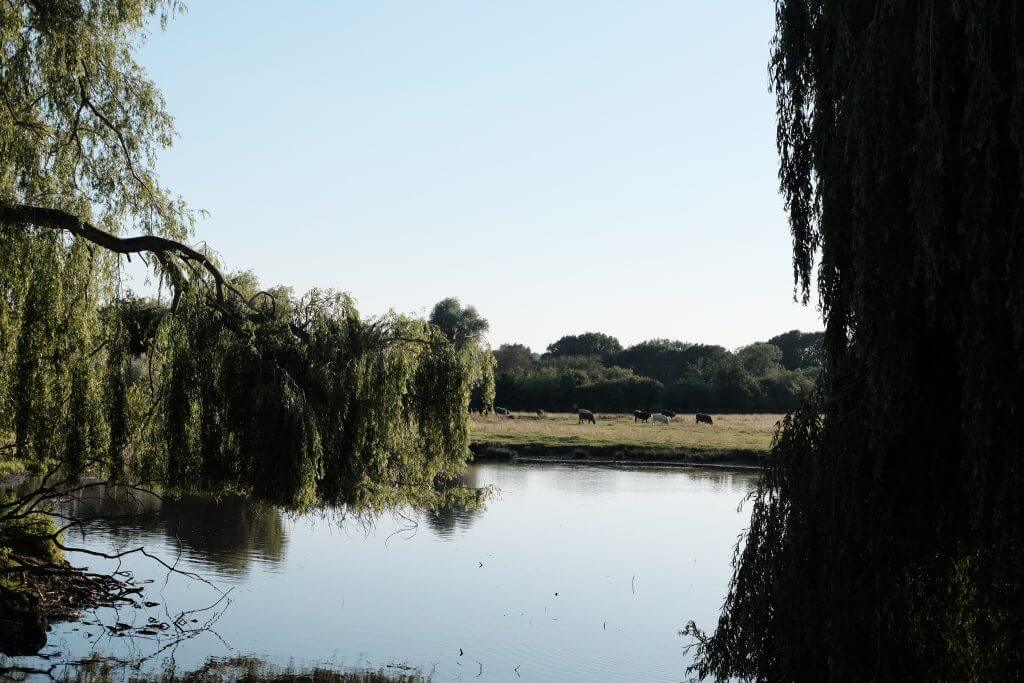 We stayed in room 2 which has gorgeous riverside views of the Stour. It was standard in size with warm tones and exposed beams, making it comfortable for a small family – including our two-year-old toddler Leo.
The room had a good-sized bed with a feature headboard, plus, plenty of time to keep the kids entertained as every room is equipped with a flat-screen TV with Freeview channels and complimentary Wi-Fi.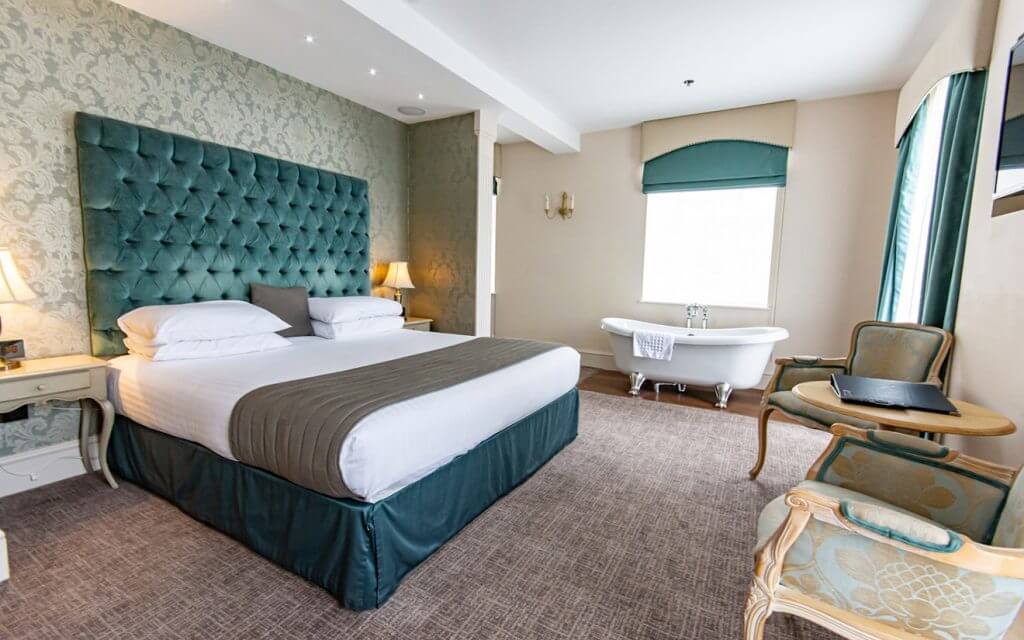 If you really want to treat yourself you can always request The Mill's suite. This expansive space showcases a king size double bed and comfortable lounge area and regal roll-top bath, as well as a large bathroom with a luxurious rain shower. When the fancy takes you, allow your breath to catch on the Juliette balconies, as they serve up an unbroken vista of the Suffolk countryside over the mill pond.
Food and Drink
When it comes to dining at The Mill, allow the surrounding countryside to set the precedent.`
As this particular evening was so warm we decided to dine outside, looking out onto stunning water meadows and gently rolling hills.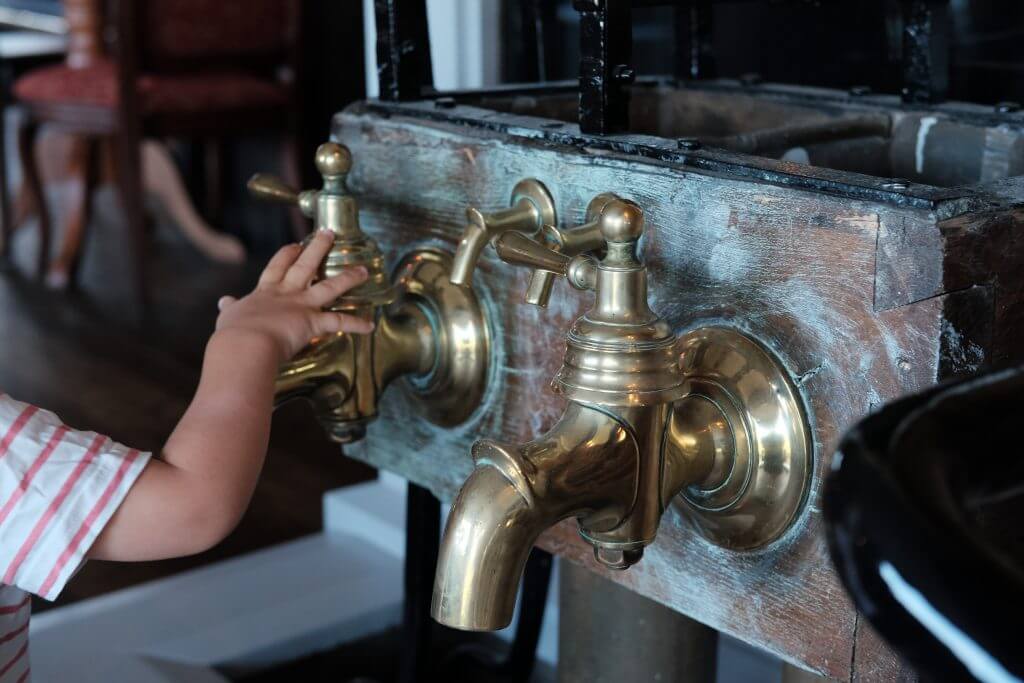 The all day menu at The Mill delivers an imaginative modern British menu with an AA Rosette for culinary excellence. The same menu was being served in both the Meadow Bar and Riverside Restaurant.
Food and drink can also be served on the rooftop terrace, which has fantastic views over the Suffolk scenery.
First up – starters… my husband and I both ordered the warm beetroot and goats cheese salad.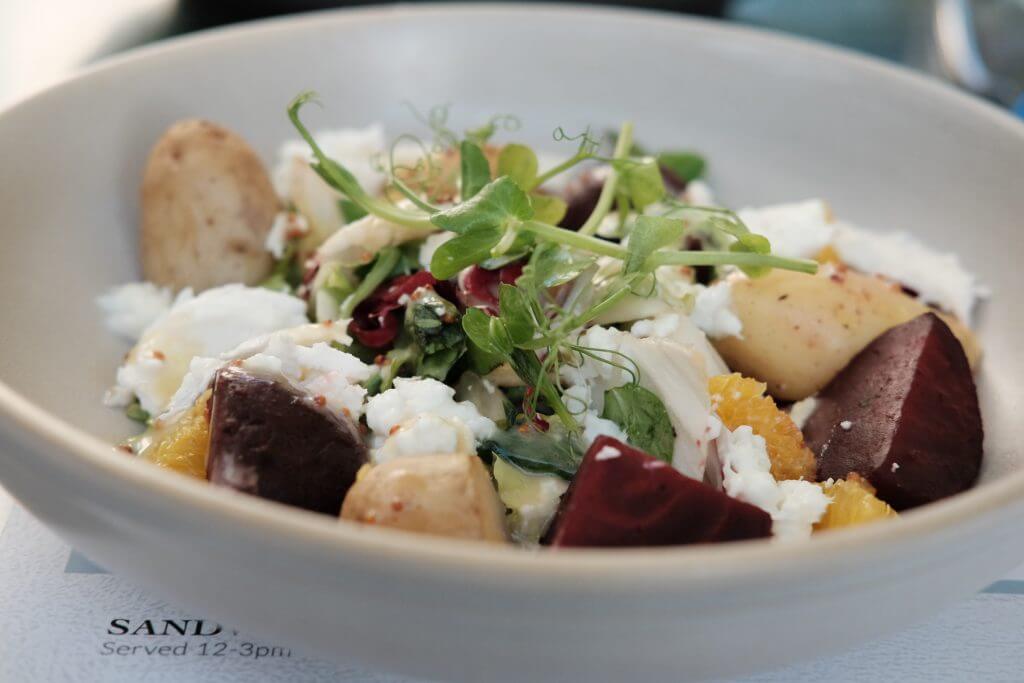 You can't get much better on a summer evening. It was packed full of fresh ingredients which are all locally sourced where possible. I also loved the added texture and flavours of the mandarin pieces! Leo ordered some cheesy garlic bread from the kids menu, which lasted all of five minutes, which then led us onto the main event.
For me being a vegetarian, I opted for the moving mountains BBQ vegan burger in a toasted pretzel bun, with pickles and fries. It was delicious and I am sure you will agree from the image below it looked like pretty impressive!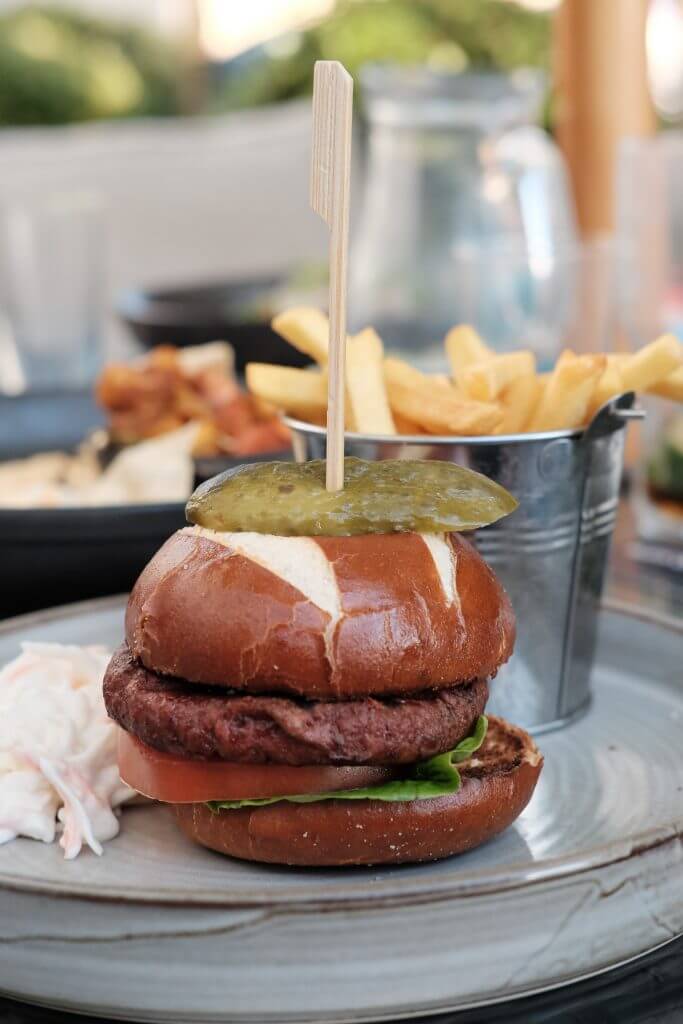 My husband chose a fish dish, and selected the pan fried cod and bombay cauliflower, curried mussels…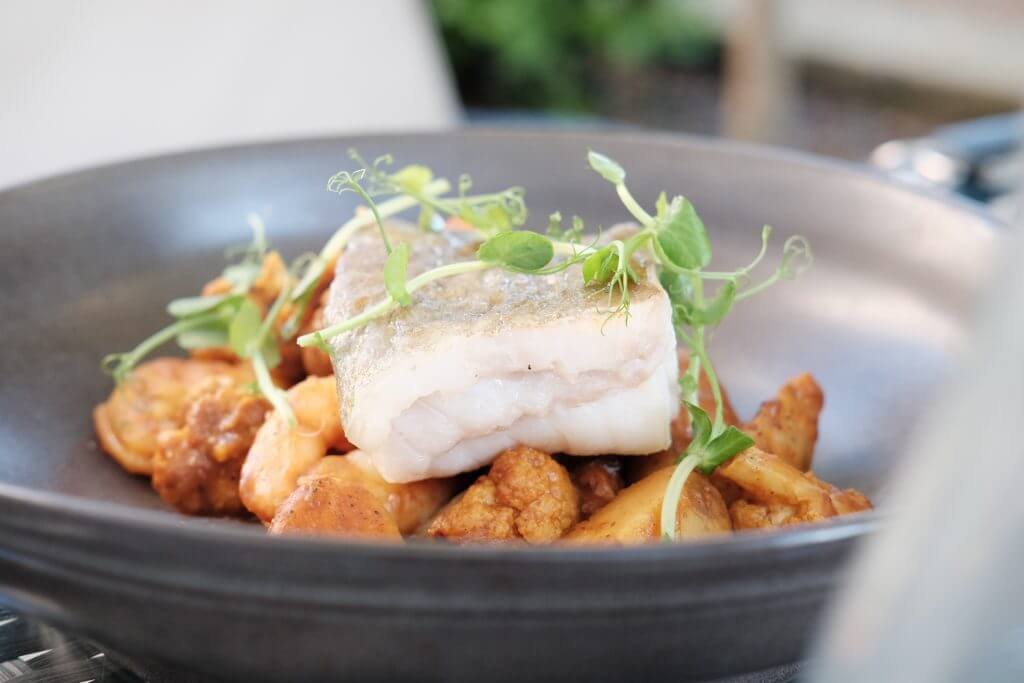 Whilst Leo indulged in a kids vegetable curry.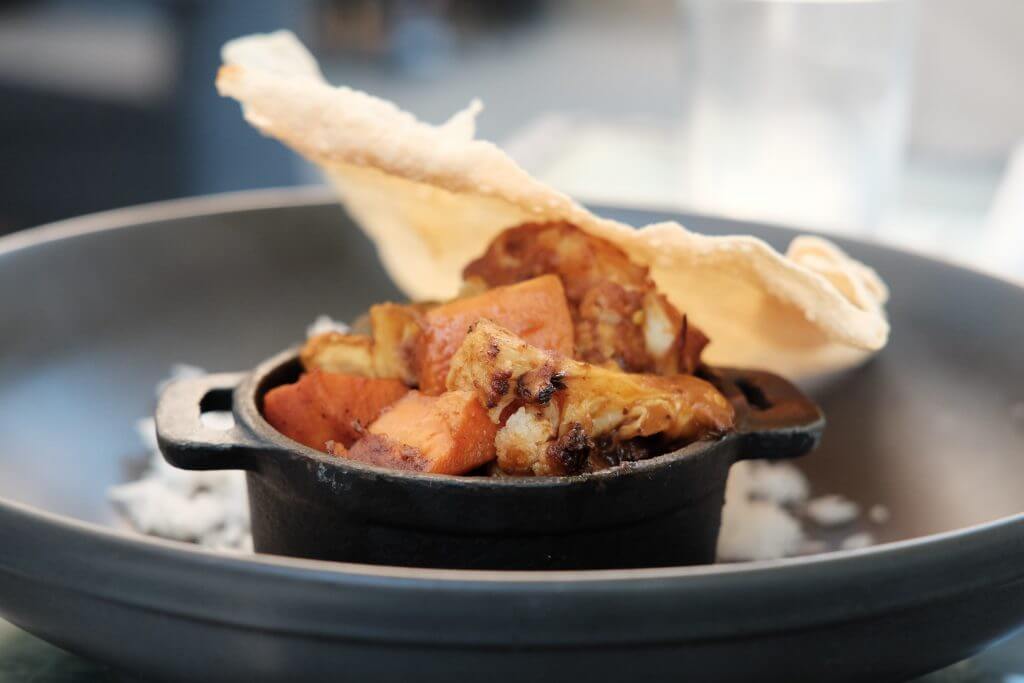 The desserts were delicious too and included a Mill-style Eton Mess and a selection of cheese from Essex and Suffolk.
Location and things to do…
You can't beat a walk through Sudbury Common Lands, opposite the hotel. This ancient wetland spans more than 50 hectares and is managed by a local charity. It's easy to get to – simply turn right out of the main hotel entrance and you'll see a gate on the other side of the River Stour.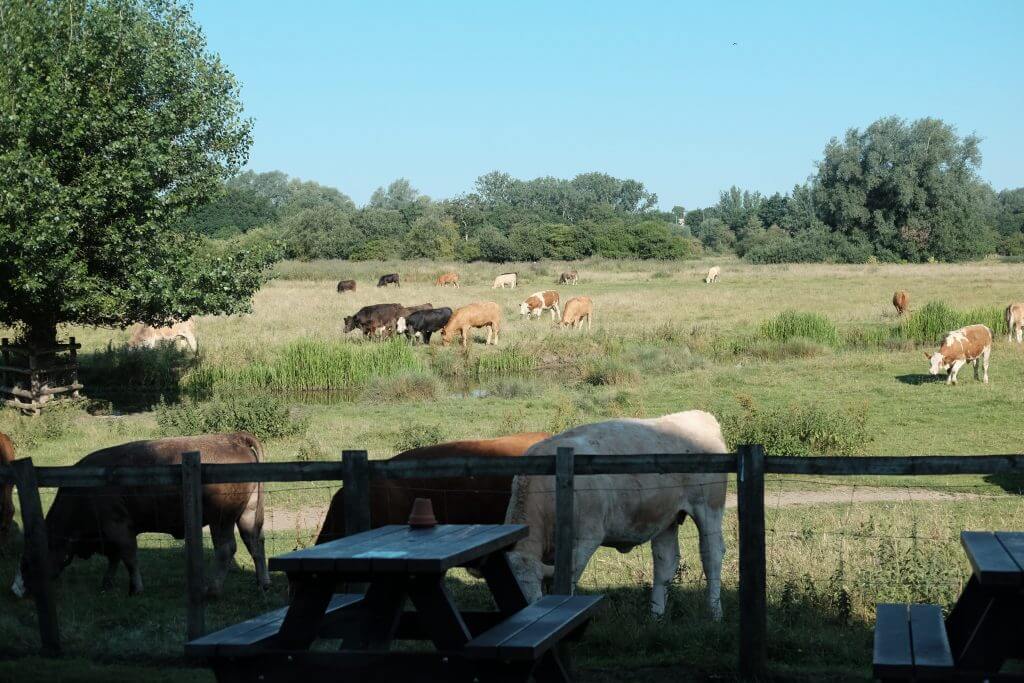 For art lovers (when restrictions allow), Gainsborough's House explores the life and art of Thomas Gainsborough. One of the greatest artists of his age, he is renowned throughout the world for his portrait and landscape paintings.
If you love the river, why not book a boat trip? Check out how here > https://www.riverstourtrust.org/river-trips/
The verdict
A peaceful escape with the most gorgeous picturesque views around. A great place to use as a base for the weekend or a few days, with a strong food menu all set within a building steeped in history.
Check out special offers on the website for more details.
Things to note: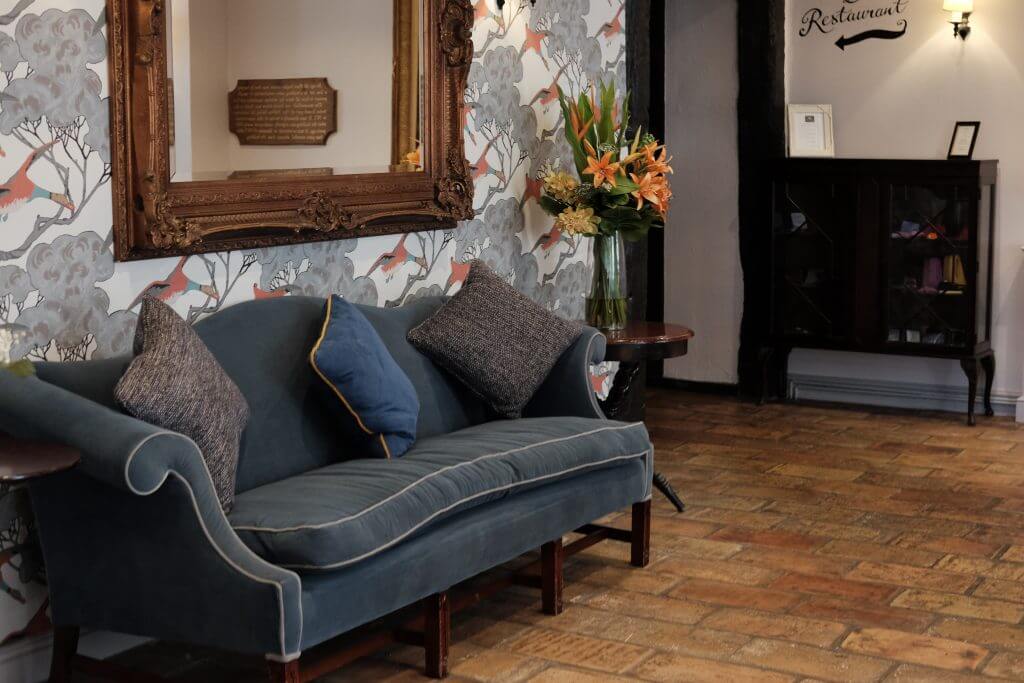 Look out for the mummified cat near reception. It is thought to date back to the 16th Century, when burying cats alive in a building was thought to protect it from evil spirits.
Parking, the hotel has its own car park but it can get full quickly – there is also on street parking near by.